Regular price
$297.00 USD
Regular price
Sale price
$297.00 USD
Unit price
per
Sale
Sold out
"Removing your breast implants is Only Step 1 to Healing…and only HALF the battle"  
The good news is that I will teach you 'the other HALF' through this course on Overcoming BII, The Explant Solution contains the answers you've been searching for. 
WHAT'S COVERED IN THE PROGRAM?

Module 1 - Module 21
1. My story & Getting to the Heart of Yours
2. What is Breast Implant Illness?
3. Do I have BII? What are the symptoms? If so, what now?
​4. Choosing a Doctor & Questions to ask your Surgeon (including Recommended surgeon Resource)
​5. Working with your Insurance
​6. Proper Explant Procedures you Need to Know
​7. Beautiful Breasts Post Explant - Fat transfer, lifts and Cosmetic options
8. ​"Crucial Conversations" - Self Love talk + communicating with Loved ones about Explant
9. ​​Labs, Scans and Toxic Load Assessments
​10. Creating your A Team of Explant Health Professionals
​​11. Finances & Explant - Saving $ & What to Expect
12. ​​Diet recommendations & Reducing Inflammation (+ Fat Loss)
13. Fitness Pre & Post Explant
​14. Reducing Toxic Load in Beauty & Beyond
​15. Recommended products and supplements/things to prepare for surgery
16. ​Explant Checklist + Travel Packing guide
​17. Top 5 Myths about BII to Reframe
​18. Advanced Detox - Myths and Mastery Pre & Post Explant
​19. Life After Explant & Changes to expect
​20. Emotional Empowerment & Mindset Mastery
​21. Going Deeper & Pulling it all Together
Lean into this library of liberation that will lift you into the light of looking inward for answers.

You'll Get
Access to all 21 Course Modules and Videos ($997)

Go at your own pace - as Fast or Slow as you like

The opportunity to connect with me in my online community for additional, customized support

​REAL talk on how to prepare for explant, how to partner with an experienced surgeon who genuinely cares to ensure a successful surgery, the right way to cleanse, and more…

​Discounts on Supplements & Detox Products
Plus These Bonuses
Supplement Protocol ($297 value)

Advanced Detox Strategy ($497 value)

Lymphatic Drainage Guide ($37 value)

​The Warrior Cleanse Recipe Book ($37 value)

​Beauty Detox Checklist ($197 value)
View full details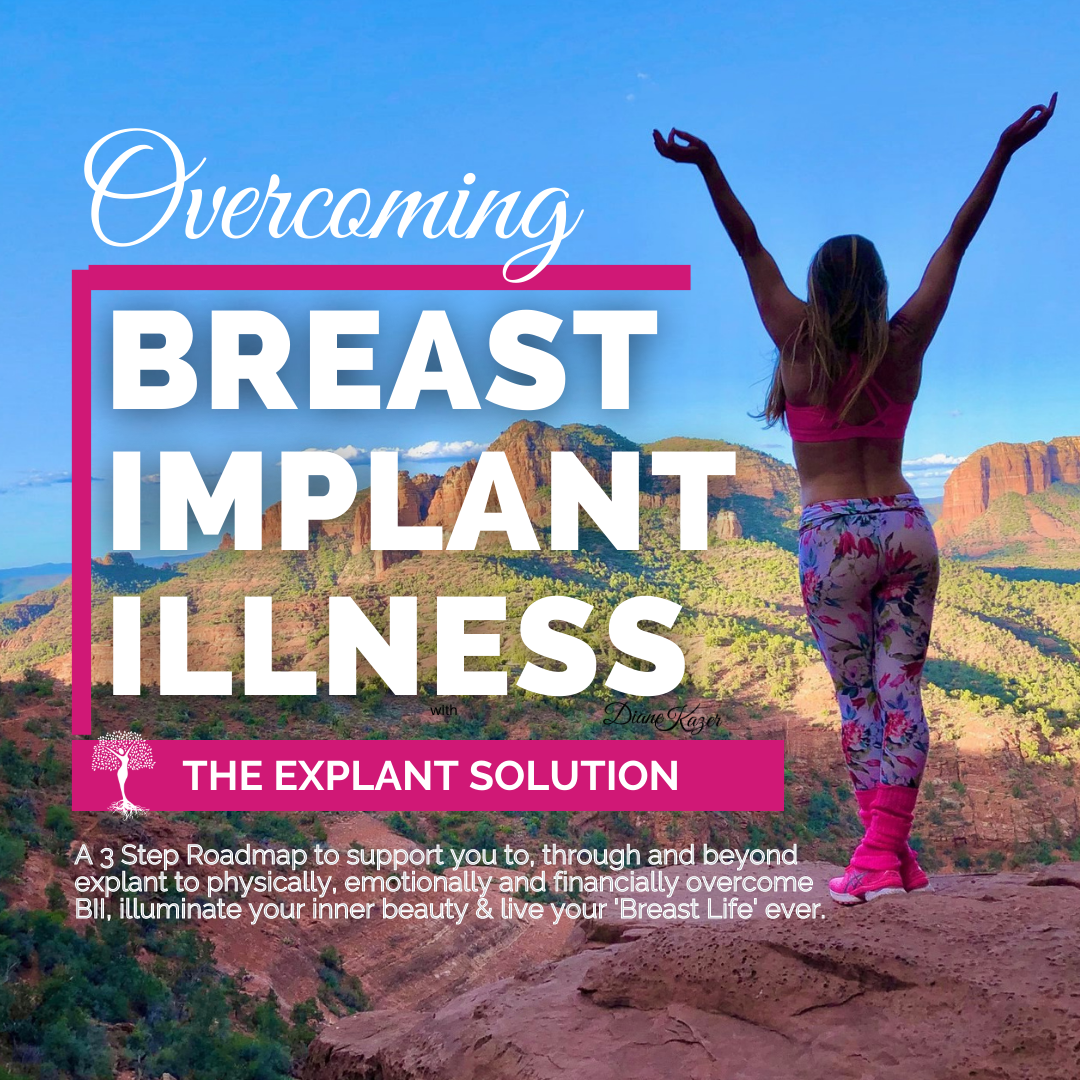 Stop navigating the complex maze of modern medicine and superficial solutions that lead nowhere
Achieve perfect health, purpose, and power by purifying your body of harmful toxins, addressing the root cause of your symptoms, and transforming your life from the inside out. With courage and confidence, overcome weight gain, body pain, broken brain, and energy depletion. Reclaim control of your health and wellness today! 💪