Regular price
$459.00 USD
Regular price
$499.00 USD
Sale price
$459.00 USD
Unit price
per
Sale
Sold out
The Full Moon Challenge is a 2 week cleanse that teaches you to:
Empower your entire body with the energy it needs to (not only feel more alive but also to)
Ensure your drainage and elimination organs and pathways are optimized so they can detox the mess parasites make in the cleansing process
Eliminate the HUNDREDS of types of parasites that live in your body as well as all of their life cycles
Ellevate your beauty, energy, immunity and vitality!
It even includes, how to do the first 3 months of parasite cleansing on your own

AND how to continue them quarterly

With all the advice you need on how to optimize energy and elimination pathways even MORE.

At the end of this course, you'll have everything you need to learn to rid your body of these suckers, know where they come from so you can reduce and/or eliminate your exposure, how to treat your entire family, ultimately boosting your immunity and hence life force energy…
THIS PURCHASE INCLUDES: 
View full details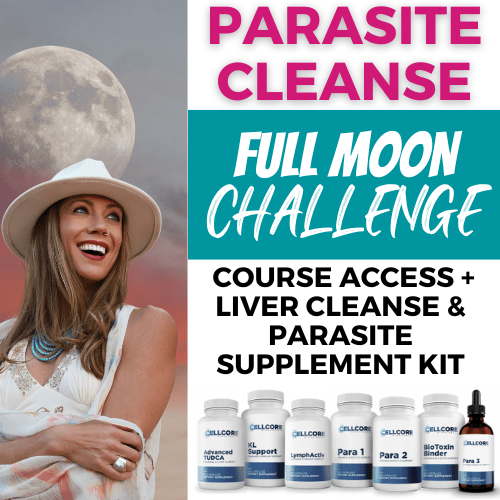 Where is the course?
Hello, I've received the supplements for the moon challenge cleanse but how do I access the course? I bought the course as well
Stop navigating the complex maze of modern medicine and superficial solutions that lead nowhere
Achieve perfect health, purpose, and power by purifying your body of harmful toxins, addressing the root cause of your symptoms, and transforming your life from the inside out. With courage and confidence, overcome weight gain, body pain, broken brain, and energy depletion. Reclaim control of your health and wellness today! 💪